Intensive Enzyme Detergent
Made in Japan
High concentrate

Patent technology

Counteracting foam

Money saving

Fresh smelling
Types: 15g*24 packet (Powder Detergent) or 500ml (Liquid Detergent)
Depends on the subject of availability and the destination of country. 13 Enterprise will choose the detergent available for you and the destination of country accepted as well.
Intensive Enzyme Detergent
Double enzymes, extra-cleaning, chemical free
With its natural and gentle formula from plant-extracted enzymes, and the patent technology on stabilizing the activity of the enzymes, the enzymes can maintain high activity and are immune from the influences of the environment. Therefore they can have supreme dissolving power and can gently remove the strains. The added particulate zeolites can help purifying the heavy metal in water, soften water and make better cleaning. The fine powder can be dissolved into water quickly and release the pepsin and lipase that can deeply penetrate into the fiber, it is highly effective in cleaning stains such as sweat, oil and blood, etc., thereby brightening your clothes after wash.

Traditional laundry powder
Traditional laundry powder removes stains by force which may damage the fiber of cloths and thin it. Plus, the chemical ingredients it contains might remain after laundry as well.

Natural formula with patent technology, biodegradable without pollution
| | |
| --- | --- |
| | |
| Proven by SGS examination that the detergent contains no chemical ingredients (phosphorous, fluorescent agent, bleaching agents, preservative... etc). | Patent No. 4397269 |
Cleansing Test

Artificial polluted clothes were separated into two equal parts. Part B was taken as control plot, and part A was for pair comparison. After soaking part B in 300ml aqueous solution (30°C) with the advised concentration of detergent, stirred the solution for 10 minutes. Then washed and stirred the cloths with 300 ml (30°C) clean water for 3 minutes twice. After the washing process finished, took out part B and dried them. Waited till the cloths were fully dried, compared the stain cleaning result to part A with macrography.
High concentrate, counteracting foam, environmental friendly and money saving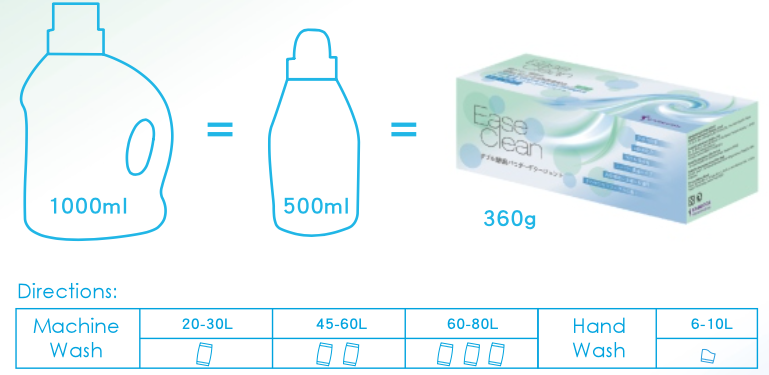 Application:
silk, cotton, linen, polyester, blending fabrics, and all types of clothes, especially recommended to the high class, special and functional clothes, Diamant, Super Conductive Metallic Ion so as to increase the lifespan of these garments.