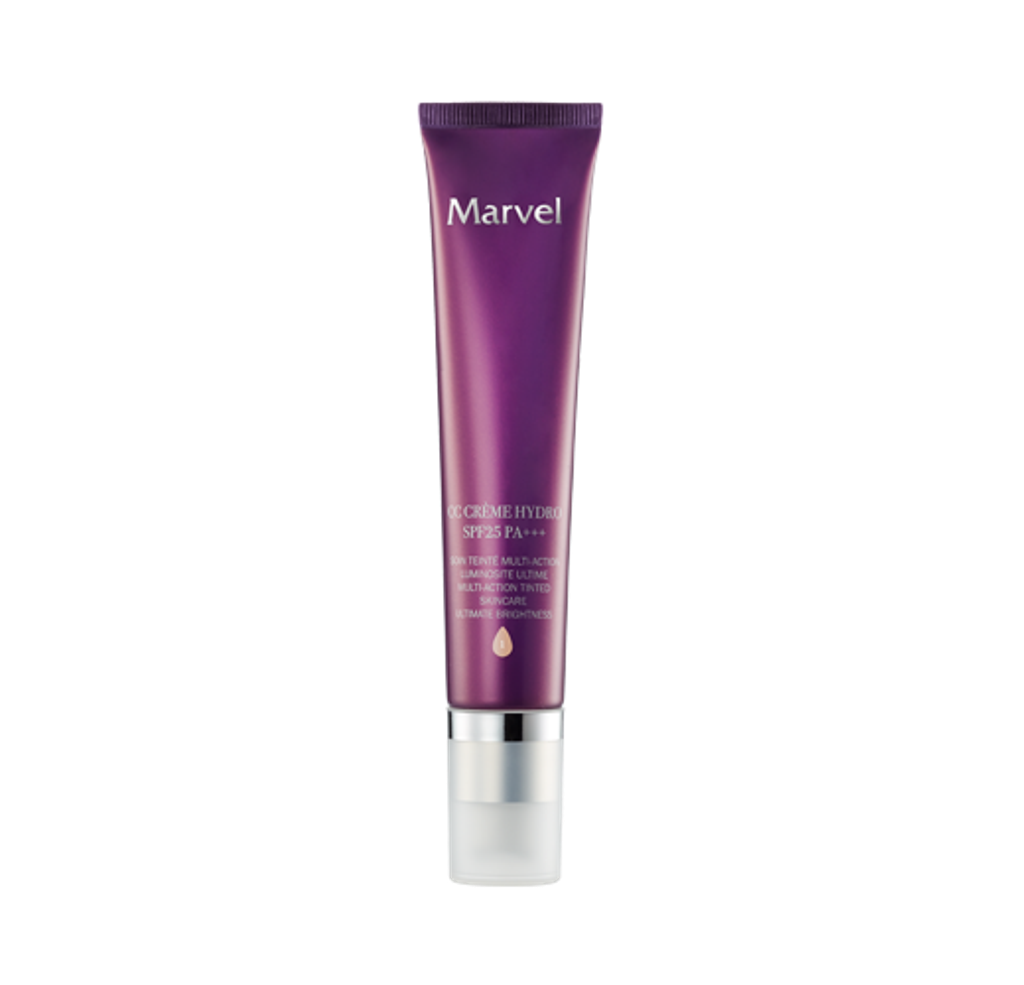 Marvel CC Hydro Cream SPF25 PA+++ / 40ML
Colour: Bright
Made in French
Hydrating plus soft focus effect create flawless skin, multiple skincare and makeuup benefits in one tube, block UV Rays, Brighten Your MakeUp
3 in 1 Combination:
Moisture from brown Seaweed – The essence of Brown Seaweed can deep into the skin, hydrating and creating taut and young-looking skin simultaneously.
Mineral Soft-focus effect – Mineral particles with natural light refraction helps to even out skin tone, giving the delicate texture of clean, flawless and -radiant skin.
UV Protection SPF25 PA+++ – Lightweight and excellent extended coverage with SPF25 UV Protection, provide long-wearing and impeccable nude makeup.
Sunscreen, Concealer, and Foundation in One
Under the hot weather and intense sunlight in the South East Asia, getting a makeup lotion with multiple functions is very convenient in daily life. Product with good concealing, soothing, refreshing effects, SPF and PA sunscreen is essential in the choice. The launched "Marvel CC Hydro Cream" possesses the above features.
"Marvel CC Hydro Cream" has combined SUNSCREEN + CONCEALER + FOUNDATION, 3 actions into 1 single step, providing good texture and concealing effects. After using it, the skin appears flawless with radiant in moments, and it allows us to stay 10 minutes longer in bed every morning. The pressure head bottle design is good to use without contaminating other makeup products. It is super convenient for frequent traveler to bring along anywhere. The product is till clean and decent after 2 months, greatly appreciate this bottle design.
Warmly remind that though the CC Cream is lightweight with comfortable texture, don't forget to clean your face properly after a busy day. In addition to removing the makeup, it is important to clean the dirt and pollutants thoroughly. After your face deeply cleaned, the pores would not be blocked to cause acnes or excessive accumulation of dead skin ells, the purified skin can take rest and absorb the nutrition from your skin care products. You can then enjoy a healthy skin glowing with natural beauty everyday!